About The Firm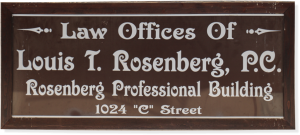 For over four decades, the Law Offices of Louis T. Rosenberg, P.C., has prided itself in providing exemplary legal representation and advice on changing legal tides to our diverse client base. Founded in 1972 with a vision of providing clients with highly responsive, individualized professional service, the Law Offices of Rosenberg, P.C. approaches each day with the goal of surpassing client expectations through hard work and professionalism.
The Law Offices of Louis T. Rosenberg, P.C. maintains a private multi-practice law firm based  in Floresville, Texas.
The Firm's primary areas of practice are:
with particular strength serving our clients in a general counsel capacity. The Firm provides litigation and business support to local governments, private enterprises, and individuals.
Our Firm's professional team combined offers over 61 years of legal experience. Louis T. Rosenberg, founder and sole shareholder, has practiced law since 1972. Louis Rosenberg has served as counsel for water supply corporations, water districts, groundwater districts, water authorities, investor owned water companies, municipalities, developers, individuals, and irrigators in Texas, Ohio, North Carolina, Alabama, Missouri, Kansas, Iowa, South Dakota, and Tennessee.
The Law Offices of Louis T. Rosenberg, P.C. is capable of rapidly mobilizing its legal staff to respond to demanding and challenging issues. The Firm's attorneys are routinely available for on-site meetings or telephone conferences (during and after business hours), and provide Spanish language services.
We invite you to browse through our Practice Areas page to learn more about the expertise and legal practice of the Law Offices of Louis T. Rosenberg, P.C.
If you believe you are in need of assistance, please contact us to schedule an appointment.