Oil And Gas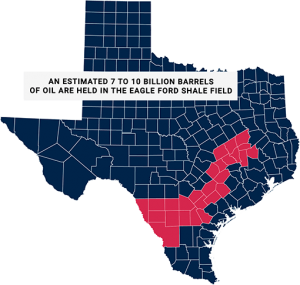 With the ever increasing scale of activities concerning the Eagle Ford Shale drilling industry in the South Texas region, The Law Offices of Louis T. Rosenberg, P.C. has been sought by many clients to provide legal advice involving oil and gas leases and negotiations, title research, easements, sales agreements and related matters.Recently, the influx of new oil and gas companies into the area with a specific interest in oil and gas formations below the Eagle Ford Shale has instituted a new round of leasing and our Firm has proudly been at the forefront of contract negotiations and lease reviews for both new and "top" leases. We take great pride in being a large part of setting the standard for royalty rates and bonus amounts in this emerging market.
"The Eagle Ford Shale has served up an $87.8 billion economic impact since 2010 and supported nearly 155,000 jobs, possibly the largest economic development story in state history. It has returned over $2.2 billion in state revenues and the same amount in local government revenues." – (6/9/2017) therivardreport.com
We are uniquely positioned in the region and the community to protect your rights in oil and gas matters. We have experience and are eager to help you with:
Lease Negotiations
Mineral Disputes
Railroad Commission Permits and Protests
Disposal Well Issues
If you believe you require oil and gas lease and negotiations advice or legal action, please contact us to schedule an appointment.